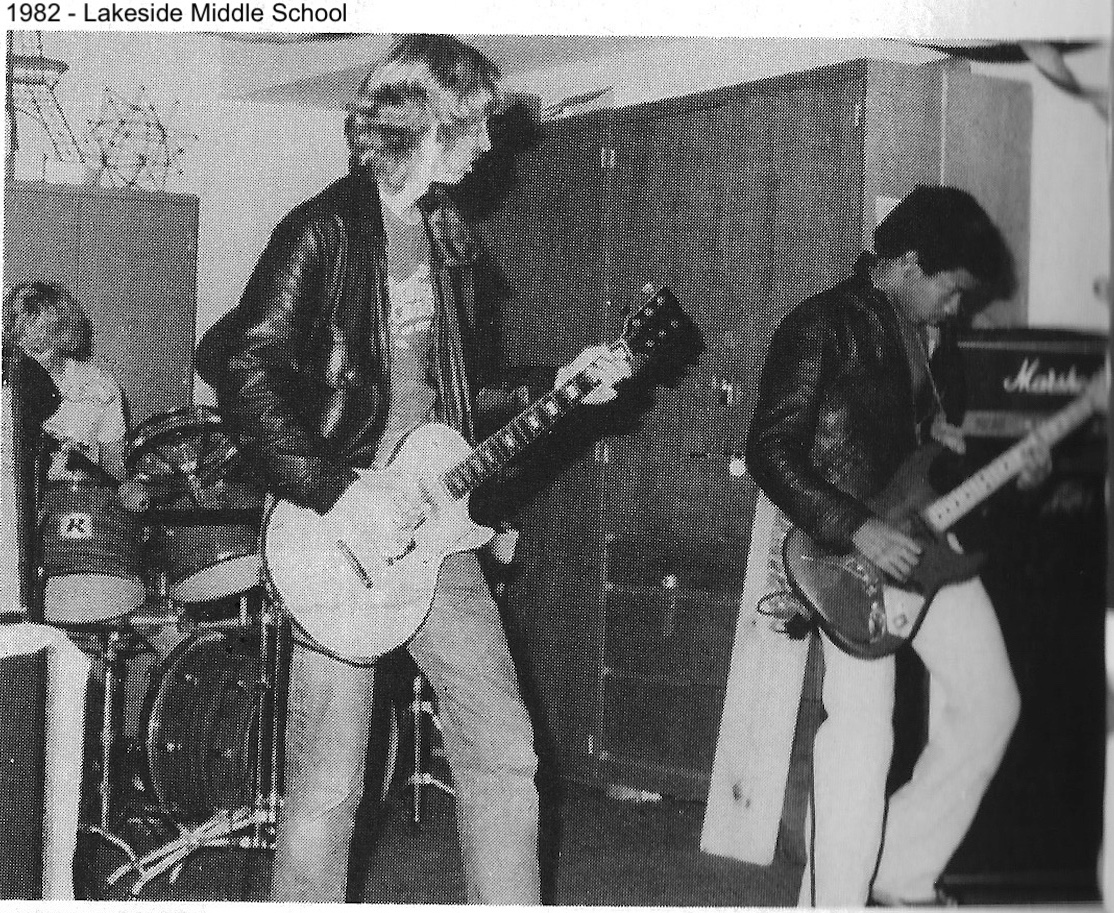 Lakeside Middle School 8th grade dance - 1982
My band was called "Northeast" and we played Rush & Judas Priest covers. Chip played the drums and Richie played guitar & bass. Richie's older brother loaned me the leather jacket and Les Paul for this gig.
1986
I was a senior in high school and can't remember this gig or the guitar. But I love my hair here. You might call it a mullet but at the time I thought of this as a "Duran Duran" cut.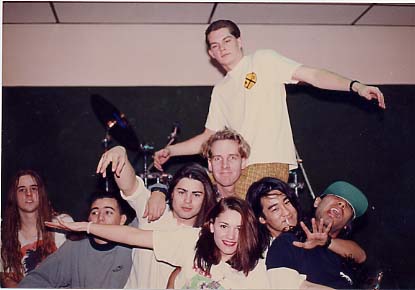 "Stompbox" rehearsal studios, Anaheim. 1990?
Rehearsals were always fun. It was about friends just hanging out & playing music together. After rehearsal we would often hit Del Taco off of Harbor Blvd for burritos and to talk late into the night.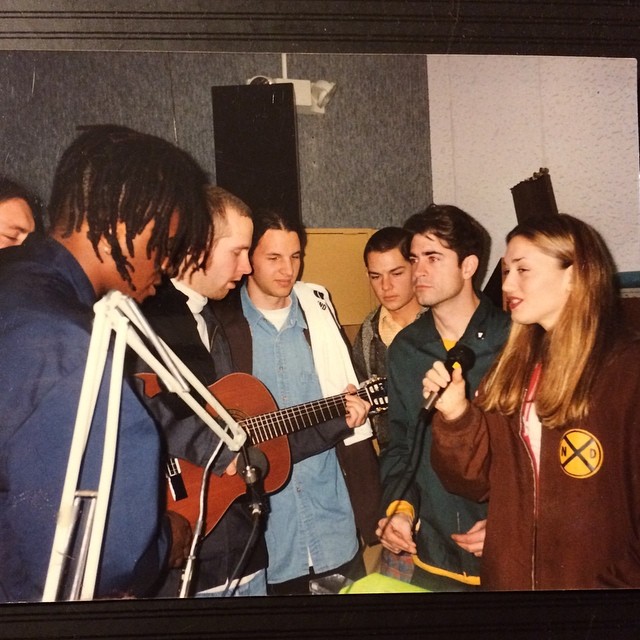 UCI radio interview - early 90's
I can't tell what year this was, Tony must've been taking this picture. We had a lot of fun going in to UCI to do interviews at the local college station, years before anyone else would play No Doubt records.
No Doubt - Cal State Fullerton noontime show - Early 90's
Most of us went to school at Fullerton together. We played these lunchtime shows at either the Becker Amphiteater or in The Pub, seemingly every year from 1989-1994. The final one we did for Kroq in 1997 something like 7000 people showed up.
Cal State Fullerton noontime show - Early 90's
Hollywood, June 24, 1992
We played the Whiskey and the Roxy in Hollywood a lot in those days, this particular show was notable because our friends Sublime were on the bill.
No Doubt tour in vans - 1992
In 1992 after our self-titled album came out, we got to finally start touring the USA, and we did it in two vans. We began one such van tour in September of 1992 with a daytime "street fair" show in San Diego. And then loaded into the vans and drove two days straight (no stopping to sleep in hotels!) to continue the tour in Pontiac, Michigan. On that haul I got the late night driving shift and distinctly remember the sun rising as I drove through corn fields while everyone slept. And same thing happened 24 hours later the following morning too, sunrise over cornfields again. How is that even possible?
w/ The Special Beat - 1992
In 1992 we opened a tour with the Special Beat, which featured members from both the Specials and the English Beat. They were like idols to us, it was a very fun & special tour for us.
Oh man what am I wearing? I can't remember what club this was but I'm guessing its 1992. Digging Tony's tiger shorts, Gwen made us each a pair and unfortunately somehow mine got lost.
Beacon Ave garage - 1993
Adrian and I spent a lot of time, along with the rest of No Doubt, in this garage studio at the band house on Beacon Ave in Anaheim. Our record label financed the studio gear to make demos on, a Tascam mixer & a 1/2" 16 track Fostex machine, I think. We really did learn how to record in that garage! This is where I learned to love multitrack recording. A couple of years ago we digitized all those old 1/2" reels. Even now its fun to listen to that stuff, most of which has never been released.
Me & Mathew Wilder - 1994?
Matthew was the producer for Tragic Kingdom.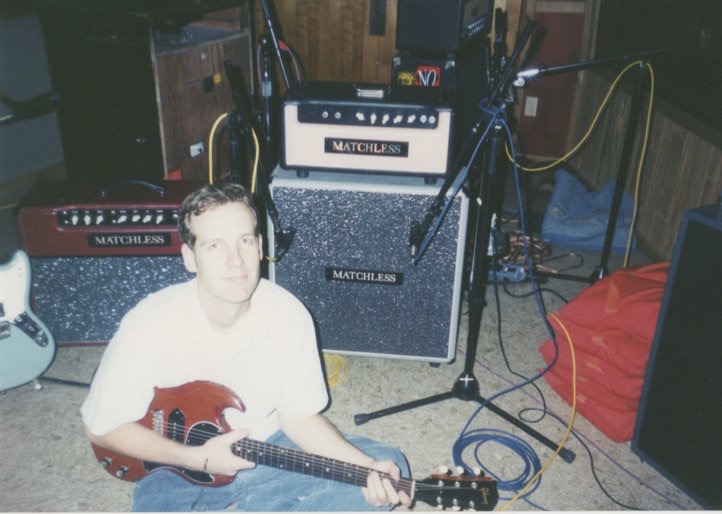 Recording Tragic Kingdom - 1994?
I didn't have the best gear at this point in my life due to lack of funds. So the label gave me a budget to rent decent guitars and amps, and most of TK was recorded on a rig like this. Rented 60's Gibson SG with P90 pickups played through a rented Matchless Clubman 35. The blue Fender Music Master 2 on the left is mine, still to this day!
1995
This shot could be from The Showcase Theater, March 31, 1995 in Riverside, CA. Which is where we did an informal release party for "The Beacon St Collection."
Promo shot early 90's
This must've been right around the time when the band shrunk to just the four of us. Thats a badly combed-back mohawk I'm rocking. Pretty sure Jill Stefani took this shot, '94 or 95?
Disneyland "Grad Night" - 1995
We got to play at Disneyland, around the corner from the band house, for a number of these all-night graduation parties. Set on our own stage in front of the Small World ride, three 30-minute sets per night- midnight until something like four in the morning. We had a lot of fun playing these gigs, just before TK came out. In between sets we'd sneak onto the roller coasters to help keep us awake. The sound man made a board tape of at least one of the nights, and gave it to us a couple of years ago - gotta find that!
Hawaii -1995
Just as Tragic Kingdom was coming out, we played a show in Honolulu Hawaii. I'm pretty sure we were opening for 311. It was a very exciting time with the album coming out. My first time to Hawaii! It felt like a vacation, we all rented scooters on our day off and took a sight-seeing trip up the coast to Hanauma Bay.
Hawaii -1995
Portland, Oregon - 1995
I'm kind of loving those spiked wristbands. This was us on tour just weeks after Tragic Kingdom came out. It hadn't really impacted on radio yet so many of the shows were poorly attended, but still very fun. This is a good shot of my 1978 Ibanez V. A couple of years ago I gave it to a fantastic young guitar player, Mason Young.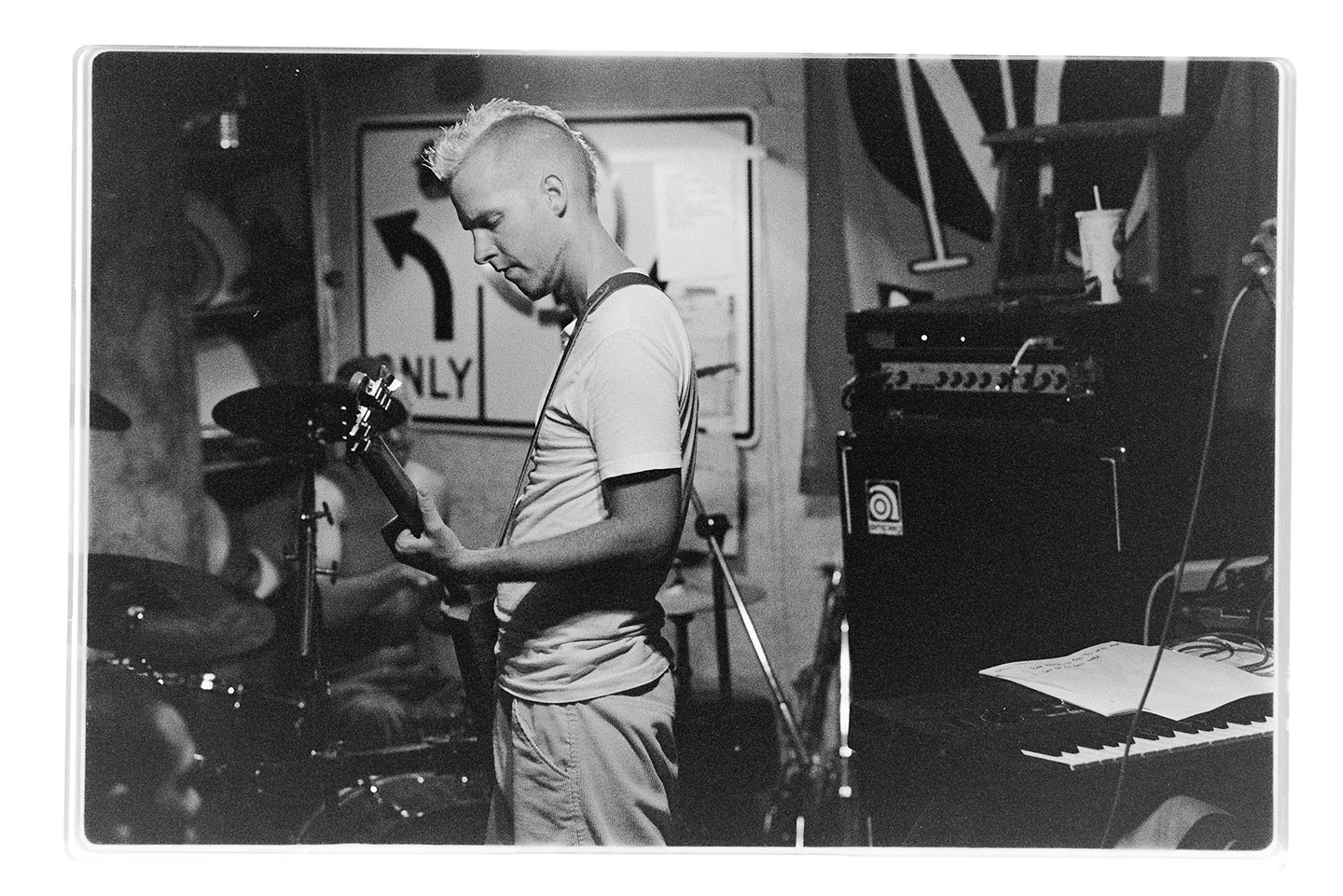 No Doubt rehearsal, Beacon Ave garage, Oct 18, 1995
No Doubt rehearsal, Beacon Ave garage, Oct 18, 1995
1995
There was this science fiction themed shop in Orange and of course I had to check it out. I went in there and immediately saw & purchased this Star Trek/Mr. Spock shirt. The insignia matched the shape of my Flying V, & I loved wearing it on stage in those days.
1995?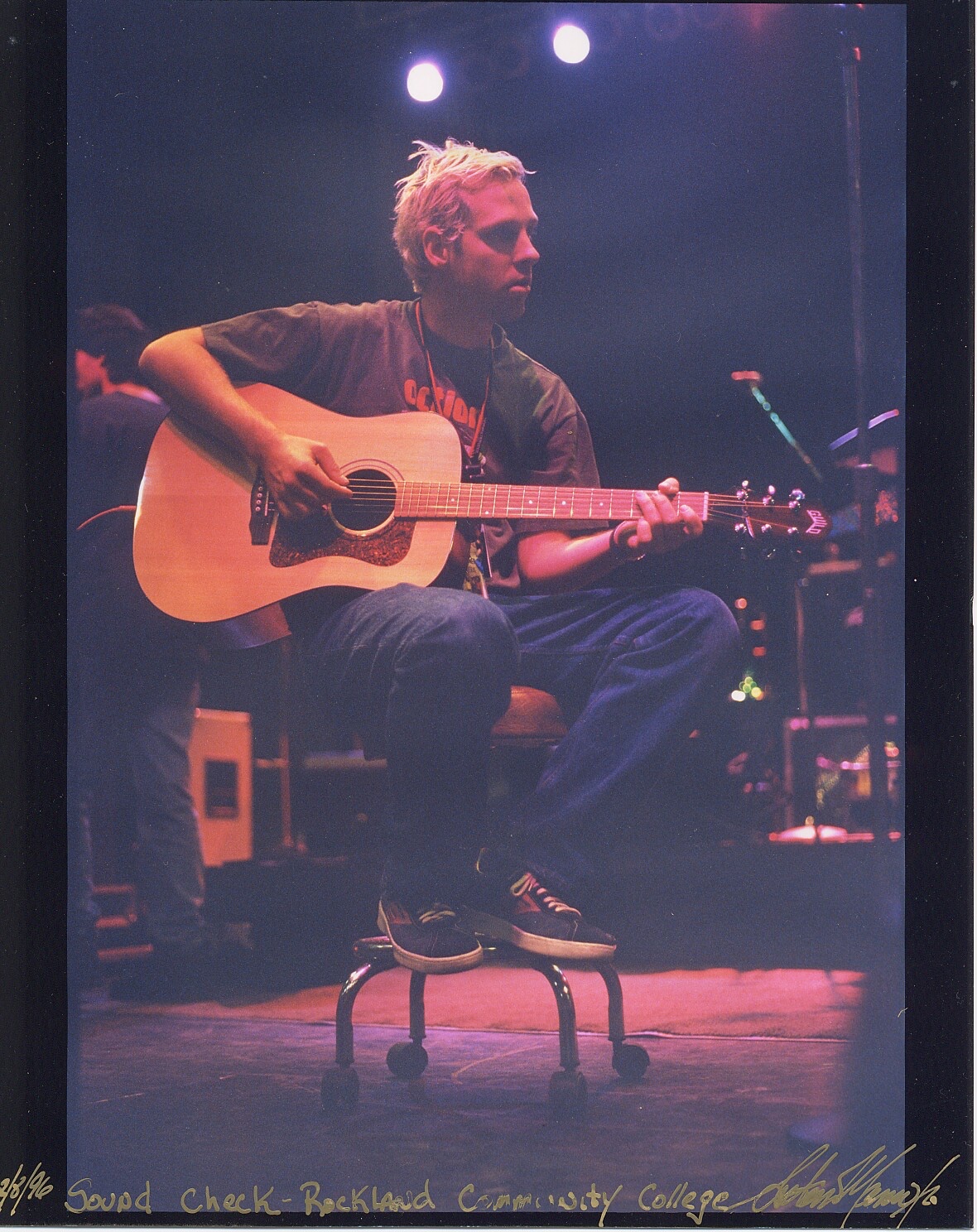 Bren Events Center, Irvine Calfornia - Halloween 1996
1996?
Photo by Chris Cuffaro
I bought this SG around 1995 at Guitar Center. It's a refinish, not very well done. But it has P90's! Still have this guitar, hanging in my bedroom.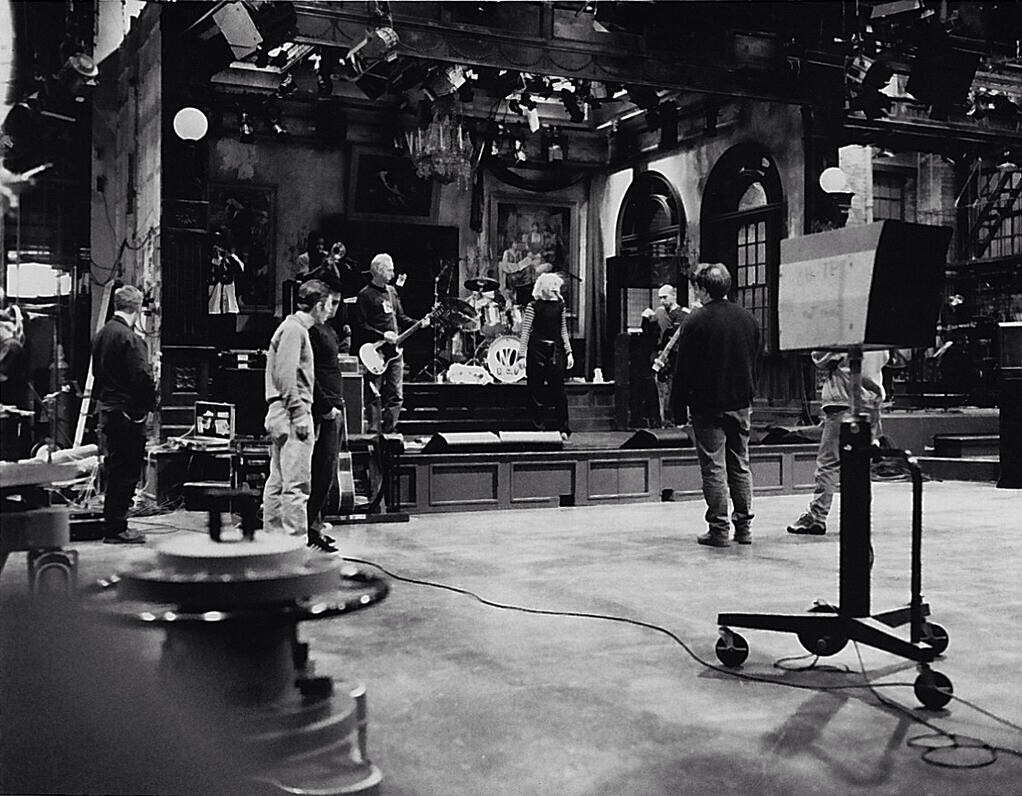 Saturday Night Live soundcheck -Dec 7, 1996
We played Don't Speak and Excuse Me Mr in 1996, and then in December 2001 we played SNL again- doing Hey Baby and Hella Good. Its live TV and the intro of Don't Speak has a very unique chord progression, which occasionally trips me up. So I was very nervous about it that night, and I swear I almost messed up the intro… I didn't fortunately but man I've never been so frightened in all my life.
Promo 8" x 10" - 1997?
Empire State Building, NYC - 1999
We were in town for the "VH1 Vogue Fashion Awards."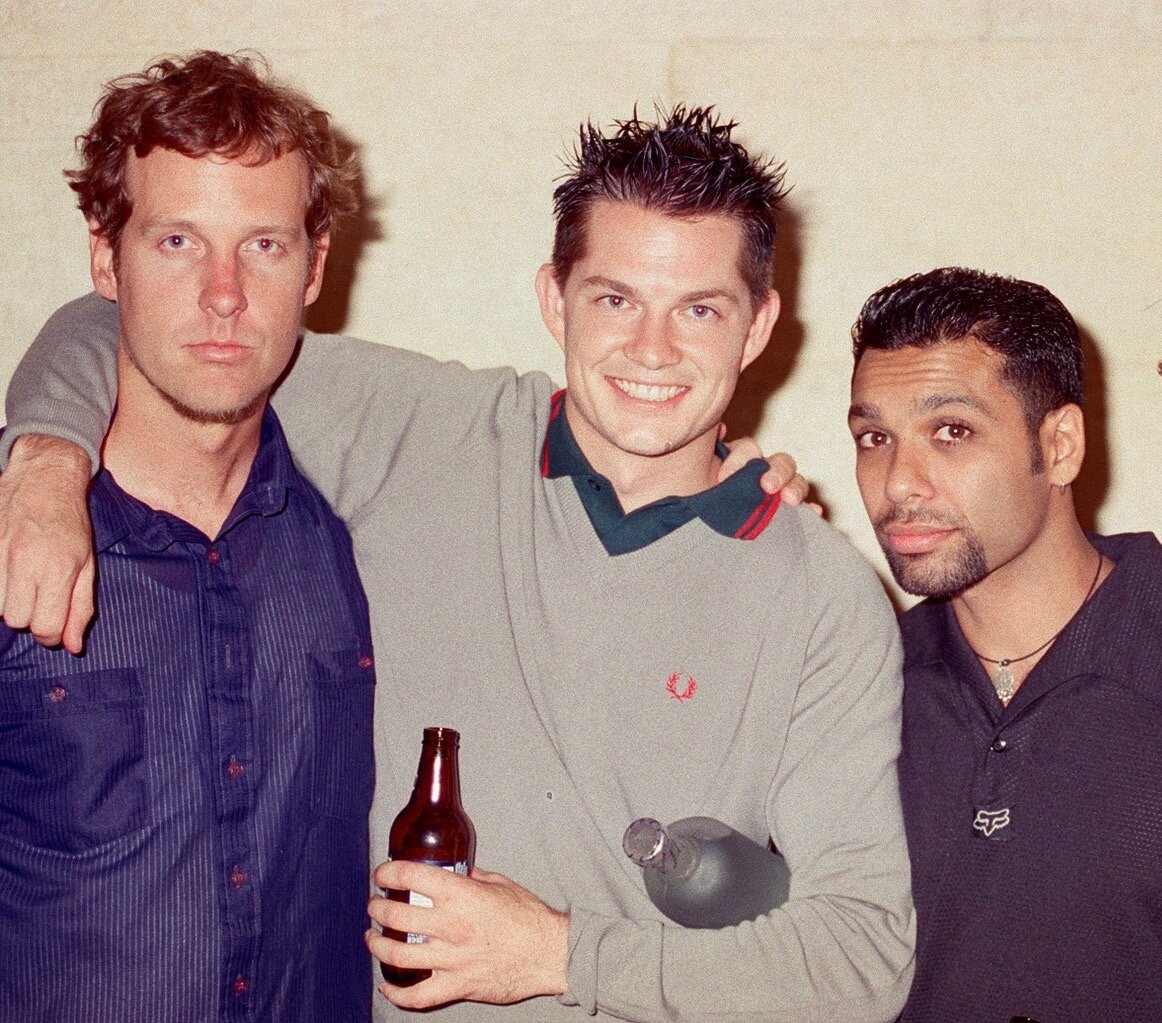 Me, Adrian & Tony - 1999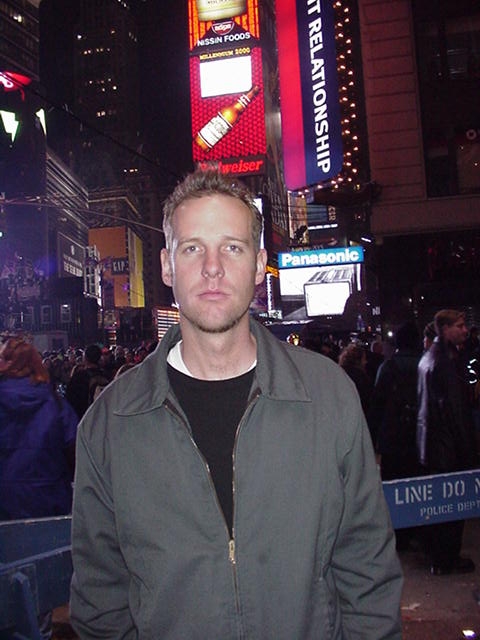 NYC Times Square - Jan 1 2000.
So serious! We played live on MTV overlooking Times Square at the stroke of midnight for Y2K. We did our best attempt at a cover of REM's "It's the End of the World" and it felt pretty epic to be in that spot at that moment. And the world didn't end!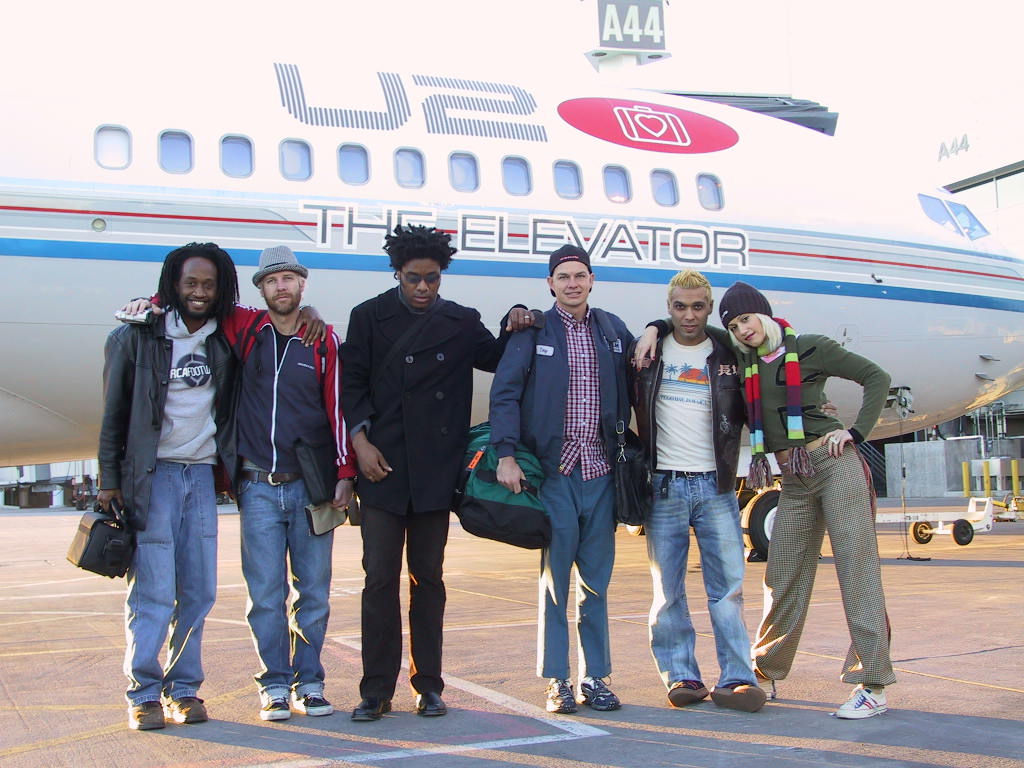 U2 tour 2001
We opened a tour for U2 in 2001. They invited us to travel on their plane for a number of the shows and we were fortunate to spend many nights hanging with those guys. It was a huge thrill for me because I loved U2 ever since seeing "Gloria" on MTV when I was thirteen. The Edge is a huge influence for me and such innovative icon of modern rock guitar. Also pictured here are Gabrial McNair and Stephen Bradley, two wonderful friends & musicians who started as No Doubt's horn section many many years ago. More than just trombone & trumpet, on stage they covered keyboards, guitars, percussion and vocal duties. Wonderful fellows!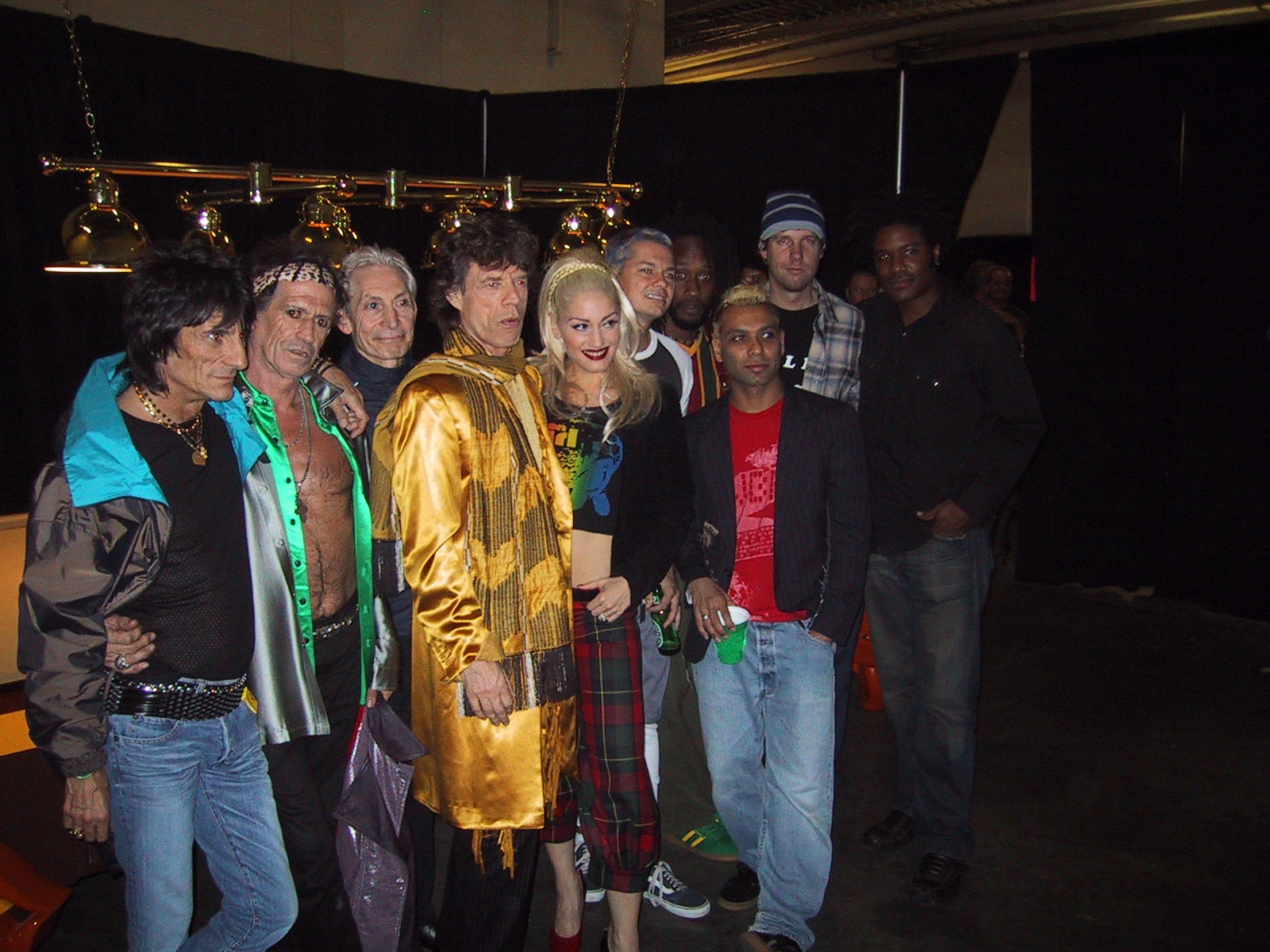 Backstage w The Rolling Stones - 2002?
We opened a bunch of stadium shows for the Rolling Stones in 2002 during our "Rock Steady" tour. I just remember the stage always seemed about 100 yards from the audience! We did our thing with gusto every night, what an incredible honor.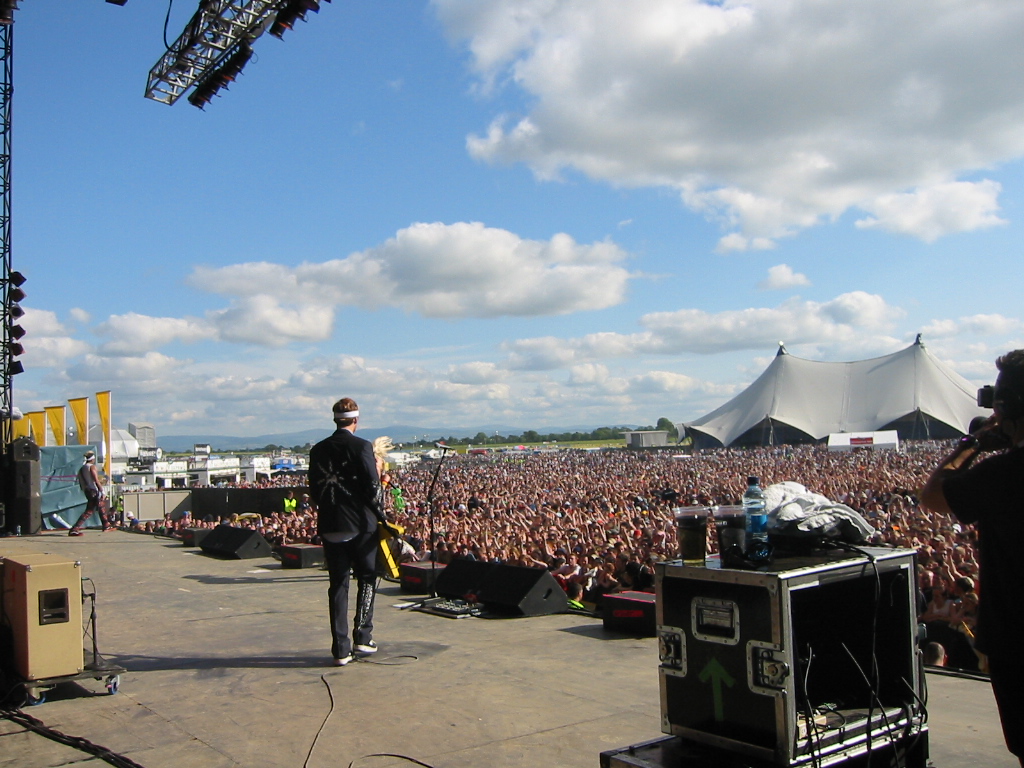 T in the Park Festival, Scotland. July 13, 2002
Grammy Awards - Feb 23, 2003
Our first Grammy! "Best Pop Performance by a Duo or Group with Vocals" for the song "Hey Baby." — Hey Baby began as a jam that Adrian, Tony and I did with producer Philip Steir in a San Fransisco recording studio during the 2001 writing sessions for Rock Steady. Those tracks then came into my home (kitchen) protools studio where we recorded most of Gwen's vocals for the song. And then we finished production in Jamaica with Sly and Robbie, and finally mixed the song (with help from Bono!) with Spike Stent in London.
Super Bowl XXXVII - 2003
No Doubt played "Just a Girl" at the Super Bowl halftime show. And then Sting joined us on stage for a rendition of "Message in a Bottle." I can't believe it either. Photo by Donald Miralle.
My rig 2009 tour.
Photo by my long time guitar tech extraordinaire Donnie Spada. (Or was this from 2012?) My transparent alpine white Hamer "Vector" and Divided by 13 amps in full effect.
2009 Tour
Love this shot of Adrian, Tony & me together for a rare moment up at the front of the stage.
2009 Tour
I loved rocking the key-tar.
Irvine Meadows Amphitheater, 2009
No Doubt sold out four nights here in the Summer of 2009, after selling out three nights at the Gibson in L.A. on the same run. I know it sounds like bragging to mention this but from my perspective now I'm just proud of what we achieved together. Irvine Meadows was my hometown concert venue, and I worked summers there as a teenager for $4.25 an hour, flipping burgers & selling beer . Mostly so I could sneak in to see shows after I clocked out. Photo by John Shearer.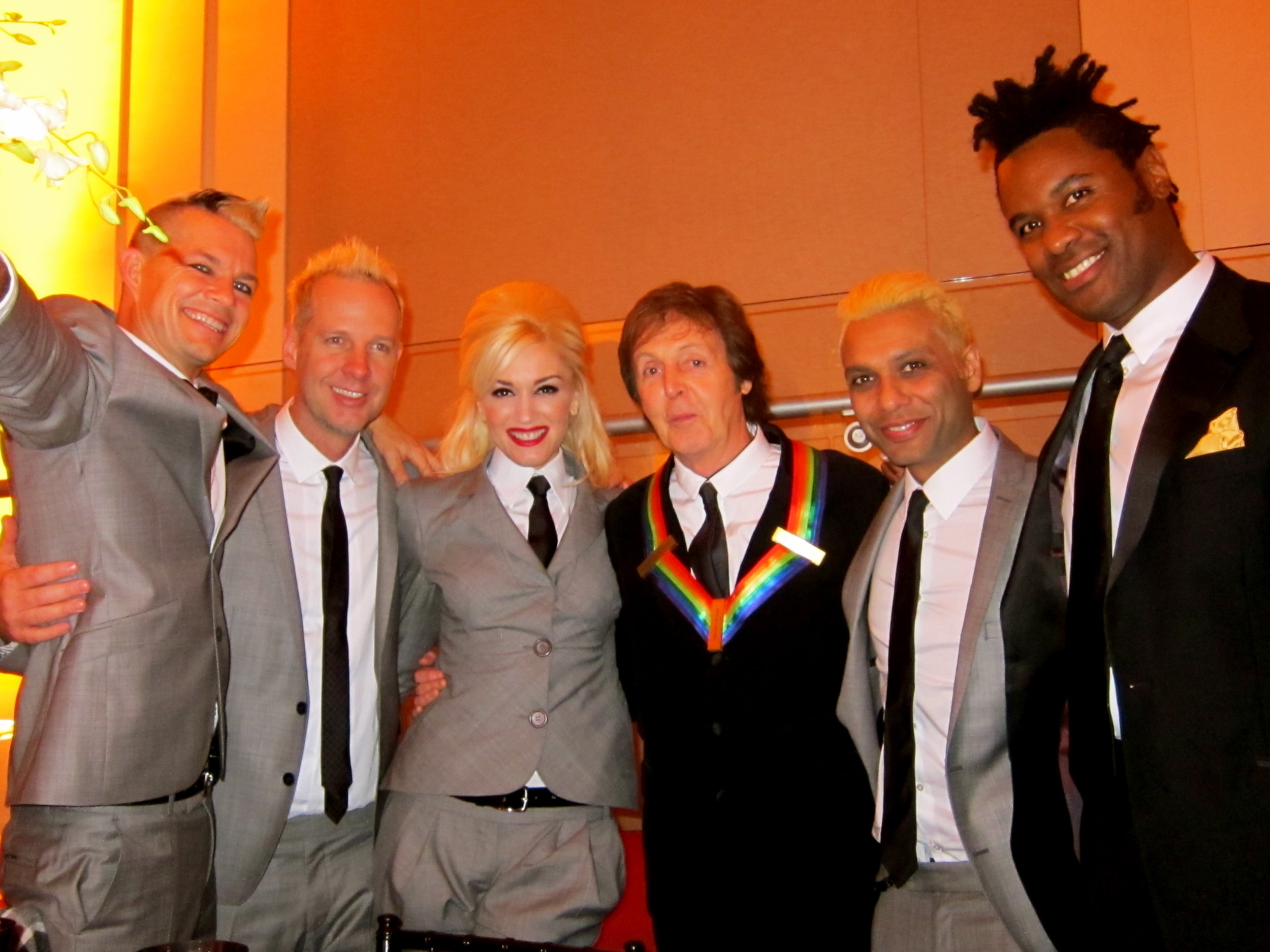 Paul McCartney & No Doubt, Kennedy Center Honors 2010
Here is another surreal one. No Doubt was asked to play a medley of early era Beatles songs for Sir Paul McCartney when he was given the Honors by the President in 2010. We did "Hello Goodbye," "All My Loving," and "Penny Lane." The front row of the balcony had Paul McCartney, Oprah and Barack & Michelle Obama, all there seated together watching us & singing along.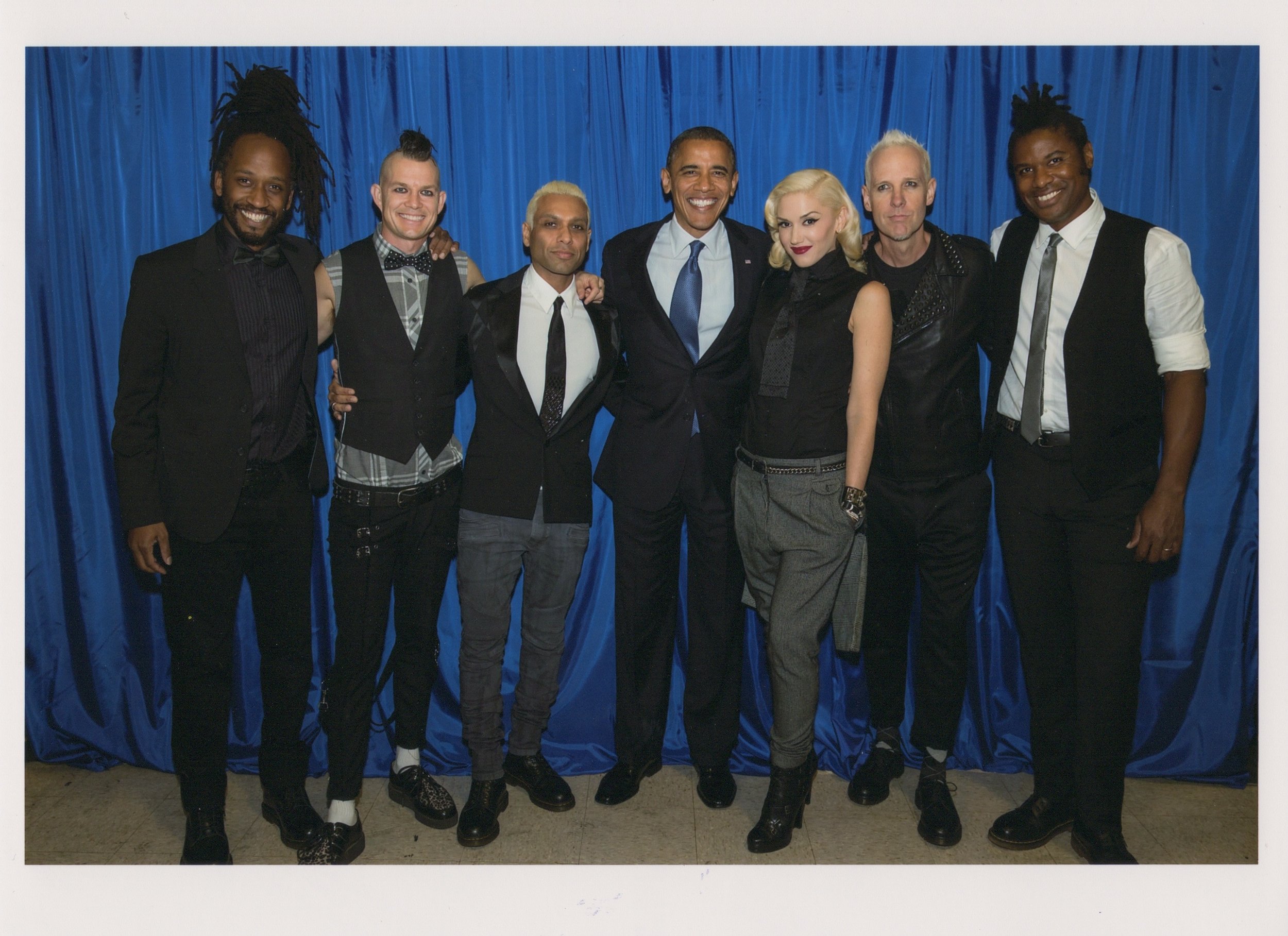 Jay Leno Show - October 24, 2012
President Obama was the guest on the Leno show that night, and we were the band. There were secret service everywhere and bomb-sniffing dogs all over our gear. But the President stopped to have a little chat and photo-op with us after the show and he even tweeted a picture with us later that night.
Global Citizen Festival - Sept 27, 2014
Photo by Ashley Beliveau
Ok just me jamming onstage with Sting in front of a zillion people in Central Park. Another amazing moment for us all. Sting was very kind and is the person who taught me one of the most important things ever- "Music is its own reward."
Global Citizen Festival - Sept 27, 2014
After our set we did a selfie in front of the Central Park audience. With actor Hugh Jackman, Global Citizen Project cofounder Hugh Evans, Ban Ki-moon, the secretary-general of the United Nations, and Jim Young Kim, president of the World Bank. Crazy.
2015?
Bottlerock Festival - May 31, 2015
Kaboo Del Mar Festival, September 18, 2015
This was a fun show, huge audience just south of Orange County. Playing my GJ2 "Spirit of '79," hand built by Grover Jackson himself.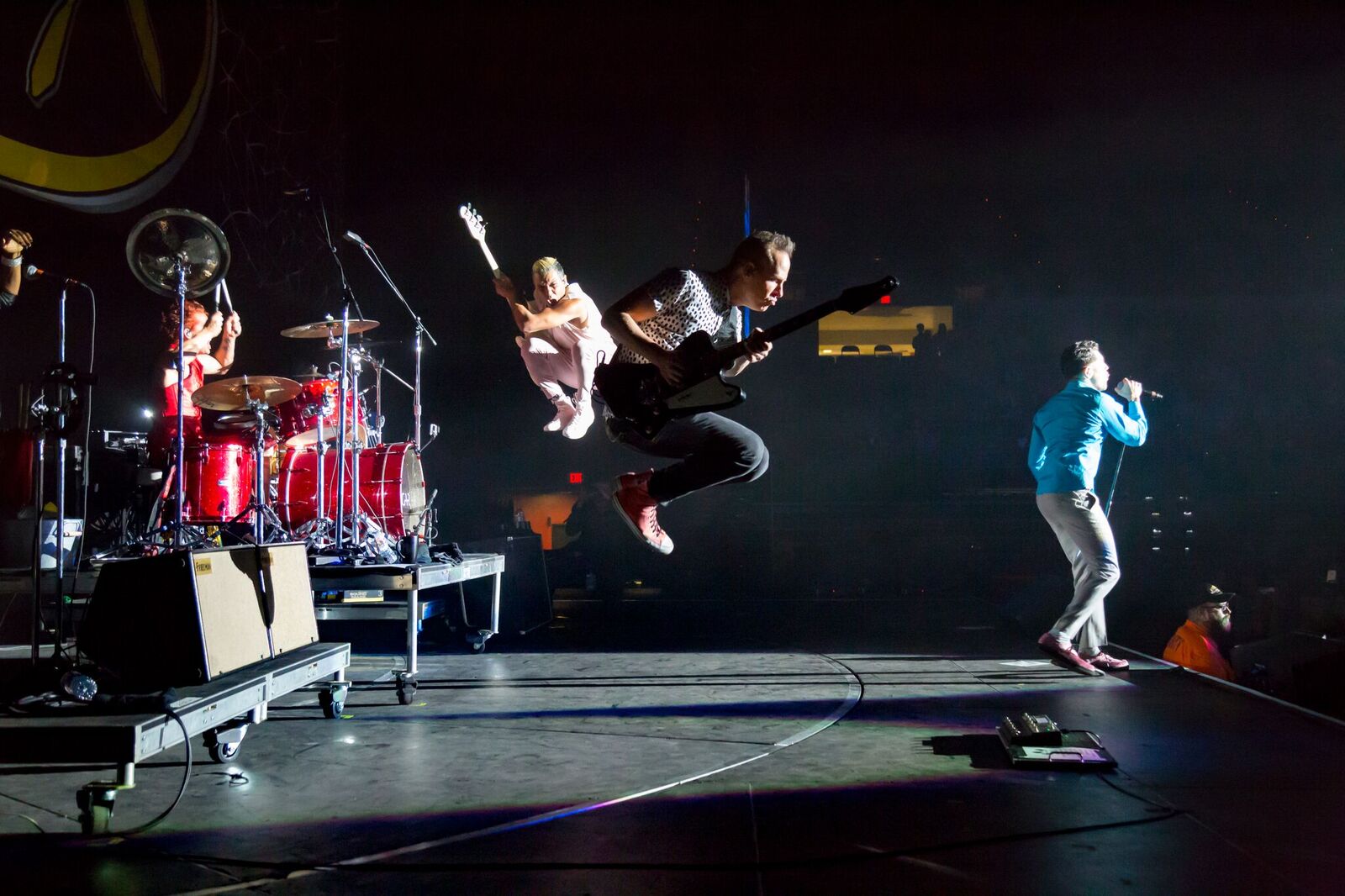 Dreamcar 91X "Wrex the Halls" - December 14, 2017
Photo: Neil Kanal
Dreamcar began in 2015 as a way for Tony, Adrian & me to keep playing music together. Davey was up for it, and we began writing songs. At first it was just four people making music for the fun of it, to see what would happen, no record label, no manager, nothing. We ended up writing almost 30 songs, made an album for Columbia Records, and played a bunch of shows in 2017 - including festivals like Coachella, Austin City Limits, & Life is Beautiful.
Dreamcar | Fonda Theater Los Angeles 2017